Looking for the best Retail & CPG events and sessions at Data + AI Summit Europe 2020 (Nov 17-19)? Below are some highlights. You can also find all Retail-related sessions, including customer case studies and extensive how-tos, within the event homepage by selecting "Retail & Consumer Goods" from the "Industry" dropdown menu. You can still register for this free, virtual event here.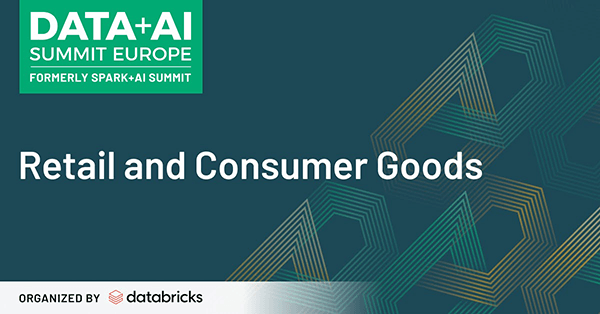 For Business Leaders
Charting a path to growth in Retail and Consumer Goods with data + AI
The recent pandemic has accelerated the adoption of digital services and e-commerce by 10 years in 10 weeks. Companies have seen a surge in market share from new customers in digital channels. As we navigate through COVID and economic recovery, companies that are able to engage their customers in a relevant, meaningful way will realize stronger growth rates.
To power real-time hyper-personalized experiences, organizations need to be armed with a unified approach to data and analytics to rethink their ways of understanding and acting on the consumer. Personalized engagement, when done properly, can drive higher revenues, marketing efficiency and customer retention. Through the use of big data, machine learning and AI, companies can refocus their efforts on areas that will rapidly deliver value and drive growth into the future. Join us for a discussion on best practices and real-world uses for data analytics and machine learning in the Retail and Consumer Goods industry.
Presenter
Rob Saker, Retail & CPG GTM Lead, Databricks
Panel
Patrick Baginski, Global Head, Data & Analytics, McDonalds
Tom Mulder, Lead Data Scientist, Wehkamp
Josh Osmon, VP, Product Management, Everseen
(H&M) Apply MLOps at Scale
In this session you will learn about how H&M evolves reference architecture covering the entire MLOps stack addressing a few common challenges in AI and Machine Learning product, like development efficiency, end-to-end traceability, speed to production, etc.
This architecture has been adapted by multiple product teams managing 100s of models across the entire H&M value chain and enables data scientists to develop a model in a highly interactive environment, enabling engineers to manage large scale model training and model serving pipeline with full traceability.
The team presenting is currently responsible for ensuring that best practices and reference architecture are implemented on all product teams to accelerate H&M groups's data driven business decision making journey.
(Henkel) End-to-End Supply Chain Control Tower
When you look at traditional ERP or management systems, they are usually used to manage the supply chain originating from either the point of origin or point of destination which are all primarily physical locations. And for these, you have several processes like order to cash, source to pay, physical distribution, production etc.
Our supply chain control tower is not tied up to a single location nor confined to a single part in the supply network hierarchy. Our control tower focuses on gathering and storing real-time data, and offers a single point of information related to all data points. We are able to aggregate data from different inventory, warehouse, production, planning, etc. to guide improvements and mitigate exceptions keeping in mind an efficient supply network operations in our end to end value chain.
This allows us to do cross-functional data-based applications, such as digital sales and operations planning. Which is a very powerful tool to align operations execution with our financial goals.
All this is possible by using a future-proof big data architecture and strong partnership with respective suppliers such as Microsoft and Databricks.
For Practitioners
Understanding the Who & Why of Customer Churn, Followed by AMA
Customer retention is essential to the long-term success of any business. Understanding who is about to leave is essential for preventing customer churn and understanding why they might leave is essential for correcting systemic issues which lead customers down this path. While the two questions are closely related, they require the use of very different analytic techniques. In this session, we will leverage real-world data from a subscription music service to explore these techniques.
Afterwards, Retail & CPG Technical Director Bryan Smith will be available to answer questions about this solution or any other retail analytics use case questions you may have.
Context-aware fast food recommendation with Ray on Apache Spark at Burger King
For fast food recommendation use cases, user behavior sequences and context features (such as time, weather, and location) are both important factors to be taken into consideration. At Burger King, we have developed a new state-of-the-art recommendation model called Transformer Cross Transformer (TxT). It applies Transformer encoders to capture both user behavior sequences and complicated context features and combines both transformers through the latent cross for joint context-aware fast food recommendations. Online A/B testings show not only the superiority of TxT compared to existing methods results, but also TxT can be successfully applied to other fast food recommendation use cases outside of Burger King.
In addition, we have built an end-to-end recommendation system leveraging Ray, Apache Spark and Apache MXNet, which integrates data processing (with Spark) and distributed training (with MXNet and Ray) into a unified data analytics and AI pipeline, running on the same cluster where our big data is stored and processed. Such a unified system has been proven to be efficient, scalable, and easy to maintain in the production environment.
In this session, we will elaborate on our model topology and the architecture of our end-to-end recommendation system in detail. We are also going to share our practical experience in successfully building such a recommendation system on big data platforms.
(Guosto) Building a Real-Time Supply Chain View: How Guosto Merges Incoming Streams of Inventory Data at Scale to Track Ingredients Throughout its Supply Chain
Gousto is the leading recipe box company in the UK. Every day we have to keep track of a huge amount of ingredients flowing through our warehouse until they are shipped to customers. In this talk, Gousto's Data Engineers will describe the challenges faced and the solutions found to merge the incoming stream of inventory events into Delta Tables. Come to hear about the bumps along the way, and to discover the tweaks implemented to improve merge performance. Today Gousto has real-time insight into the flow of ingredients through its supply chain, enabling a smarter, more optimised measure of its inventory performance.
Looking forward to seeing you at the Data + AI Summit 2020.
—
Try Databricks for free. Get started today.
The post Retail and Consumer Goods Agenda for Data + AI Summit Europe 2020 appeared first on Databricks.
Source: Databricks